Dependable Water Damage Restoration Services in Northridge, CA and Surrounding Areas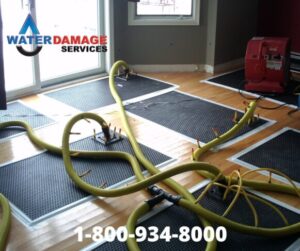 When faced with flooding emergencies, time is of the essence. We are well-acquainted with the urgency that comes with water damage and stand ready to respond swiftly. Contact us immediately; our team will be at your location within 90 minutes to begin the drying and restoration process, minimizing further damage to your property.
Navigating insurance claims for water damage can be complex. Leveraging our expertise as a reliable service provider in Northridge, CA, we facilitate the claims process by coordinating directly with your insurer, easing your burden during this stressful time.
Our highly trained professionals are prepared to assess the situation efficiently, devising a tailored plan for water removal in your home or commercial space. Using state-of-the-art extraction and drying techniques, we not only remove water but also prevent mold and mildew growth. We are licensed and insured, equipped to handle all levels of water damage and dedicated to getting you back to your regular routine quickly.
Our Water Damage Repair Strategy
The restoration and repair process for Northridge residents involves comprehensive water removal and the deployment of drying equipment to return your space to its original state. The duration of this process varies, influenced by the time elapsed from the onset of damage to our team's intervention.
Addressing the Source of Water Damage
Firstly, we assess the damage and identify the water source, be it a burst pipe, appliance failure, or sewage backup. This stage focuses on stopping the water flow and rectifying the core issue.
Water Removal
We then remove standing water or sewage from the affected area. The specifics of this step can vary greatly, depending on factors such as the water amount, its type, and how long it has been present.
Material Disposal
Our team prioritizes drying wet structures in situ where possible. However, irreparable materials are promptly removed to prevent further damage.
Drying
Specialized equipment, including air movers and dehumidifiers, is used to dry structures that can be saved. Rapid initiation of this process helps in reducing the spread of water and lowering the saturation level of structures, thus mitigating further damage.
Sanitization and Deodorization
Finally, we cleanse, sanitize, and deodorize the affected areas to prevent the future growth of mold and mildew, leaving your space fresh and clean.
Understanding the Four Levels of Water Damage
Water damage is classified based on the amount of time needed for complete evaporation, which guides our cleanup efforts and equipment selection for drying your space. The details for classes in Northridge are as follows:
Slow Evaporation – Class 1
Class 1 water damage impacts a part of a room and the affected items are primarily non-porous, not absorbing significant moisture. Areas with tiles, hard surfaces, and other non-porous materials classify as Class 1 water damage.
Fast Evaporation – Class 2
Class 2 water damage impacts a broader area, including items that moderately absorb water such as carpets, drywall, wood, and fabrics. This class also includes cases where water has seeped into walls, less than 24 inches high.
Fastest Evaporation – Class 3
Class 3 water damage occurs when the source of damage is overhead, affecting a wide area. Both absorbent and non-absorbent materials are exposed to a significant amount of water in this scenario, causing water to penetrate walls, ceilings, insulation, carpets, fabrics, and other porous materials.
Specialized Drying Techniques – Class 4
Class 4 water damage occurs when water has infiltrated an area, making drying and restoration especially challenging. This class of damage may affect both porous and nonporous materials like plaster, concrete, and hardwood. It also includes areas that are difficult to access or that require notably low humidity levels to dry.
Three Categories of Water Damage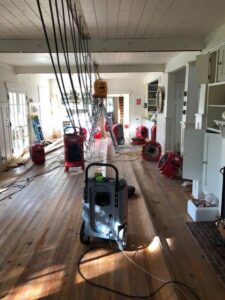 All water damage is not alike. The health risk can escalate depending on the type of water causing the damage. Water damage is categorized based on the cleanliness of the water.
Clean Water – Category 1
Damage caused by water from sources like sinks, showers, tubs, and supply lines is deemed clean water and does not pose a health risk to humans and animals. However, clean water can evolve into grey water after 48 hours.
Grey Water – Category 2
Damage caused by water from appliances such as washing machines, dishwashers, and toilets, containing only urine, is moderately unsanitary. This water, called grey water, can contain chemical, biological, and physical contaminants that can cause moderate illness and health problems in humans and animals. Grey water can transition into black water after 72 hours if left untreated.
Black Water – Category 3
Damage caused by water from sewage backups, toilets containing feces, or flood waters from lakes, streams, rivers, and ground water is highly unsanitary, contains dangerous bacteria and biological matter, and can cause serious illness and health issues in humans and animals. Because the exact source of black water is often unknown, the quality and content of the water is unknown
How Much Does Water Damage Restoration Cost in Northridge CA?
The cost of water damage services, water damage restoration, and water damage repairs vary depending on the nature of the damage and the scale of the affected area. We take into account the following factors:
Class and Category
Size of damaged space
What kind of materials are damaged
Extraction difficulty
However, most home and business owners have insurance to cover these losses and we work directly with your insurance company throughout the process.
We will respond and resolve your water damage emergency NOW. Call now to have our water damage service experts immediately sent to your home or business to start the drying process. We have a world-class team, specialized equipment, and a proven process to restore your space. We are licensed, insured, and we work with directly your insurance company.
---
We provide service throughout Northridge CA, including 91324, 91325, 91326, 91343.