Water Damage Ventura CA, Water Damage Cleanup and Removal
24/7 live calls

On our way in 90 minutes or less

We bill directly to insurance

Family-owned and operated

Specialists in dry-in-place technology, saving you time and money
Trusted, certified technicians
Emergency repairs
Available 24/7
Exceptional Service Guarantee

Ventura CA's Premier Service for Water Damage Restoration and More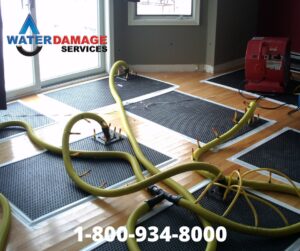 As experts in handling water-related emergencies, we understand the urgency to act immediately when water damage strikes. Reach out to us now, and we guarantee a response within 90 minutes to start the drying and restoration process before further harm can ensue to your home or business.
Many homeowners and businesses aren't aware that insurance often covers this kind of accidental damage. With our expertise and extensive knowledge in water damage, we can get most claims covered under your insurance policies by coordinating directly with your insurance company.
Our team of highly trained, skilled, and experienced technicians will promptly evaluate the damage and devise a plan to effectively remove the water from your residential or commercial property. Our goal is to get you back to normal as soon as possible. We prioritize immediate water extraction and structural drying to prevent mold and mildew growth. Rest assured, we are licensed, insured, and have state-of-the-art equipment at our disposal.
Our Approach to Water Damage Repair
Water damage restoration and repair involves extracting water and using drying equipment to restore your home or business to its original state. The length of this process can vary, but calling us promptly after noticing the water damage can expedite the restoration.
Halting the Flood Damage
Our process starts with evaluating the damage and identifying the water source. Whether it comes from a malfunctioning appliance, ruptured pipe, or sewage backup, our first step is to halt the water flow and fix the root cause.
Water Extraction
We eliminate all standing water and/or sewage from the impacted area. Each case is unique, depending on the volume of water, its type, and duration of presence. In some cases, if the water volume is substantial, we may need to pump it out.
Material Removal
Whenever possible, we dry structures in place. However, materials that can't be restored are duly removed.
Drying
We employ specialized air movers and dehumidifiers to dry salvageable structures. Proper management of this process is vital to dry the saturated structures quickly and avoid additional damage. By starting the drying process immediately, we can prevent water migration and limit the saturation level of the structures.
Sanitizing and Deodorizing
Our cleanup also includes sanitizing and deodorizing the affected areas to ensure a mold and mildew-free environment once our job is done.
The Three Categories of Water Damage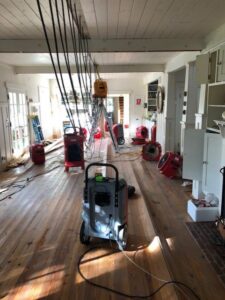 Water damage can differ significantly, with varying health risks depending on the water type. We classify water damage based on the water's cleanliness.
Clean Water – Category 1
Water from sources like sinks, showers, tubs, and supply lines is considered clean and does not pose health risks. However, if not addressed within 48 hours, clean water can turn into grey water.
Grey Water – Category 2
Grey water is moderately unsanitary and comes from appliances like washing machines, dishwashers, and urine-only toilets. It can contain chemical, biological, and physical contaminants that may cause health issues. If left untreated for over 72 hours, grey water can become black water.
Black Water – Category 3
Black water is highly unsanitary and comes from sources like sewage backups, feces-containing toilets, or floodwaters. It can contain hazardous bacteria and biological matter, posing severe health risks. The exact origin of black water is often unknown, hence the quality and content remain uncertain.
The Four Classes of Water Damage
Water damage is further classified based on the evaporation time. The damage class guides the cleanup actions and the equipment required for drying.
Slow Evaporation – Class 1
Class 1 water damage impacts a portion of a room, mostly involving non-porous items that don't significantly absorb moisture. Tiles, hard surfaces, and other non-porous materials fall under this class.
Fast Evaporation – Class 2
Class 2 water damage affects a larger area with moderately water-absorbent items like carpets, drywall, wood, and fabrics. If water has infiltrated walls up to 24 inches high, it also falls into this class.
Fastest Evaporation – Class 3
Class 3 damage occurs when water comes from overhead, impacting a substantial area. The affected materials include a mix of absorbent and non-absorbent items, all exposed to a considerable amount of water. Walls, ceilings, insulation, carpets, fabrics, and other porous materials are usually involved.
Specialized Drying Techniques – Class 4
Class 4 water damage is characterized by water reaching areas that pose significant challenges in drying and restoration. It may affect both porous and nonporous materials like plaster, concrete, and hardwood. Hard-to-reach areas or locations requiring extremely low humidity levels for drying also fall under class 4 cases.
What's the Price Tag for Water Damage Restoration in Ventura, CA?
The charges associated with water damage services, restoration, and repairs differ based on the extent of the damage and the size of the area affected. We consider the following elements when estimating costs:
Damage Class and Category
Dimensions of the impacted area
Types of materials damaged
Difficulty of extraction
However, many homeowners and businesses have insurance coverage that includes these types of damages, and we liaise directly with your insurance company throughout the procedure.
We're ready to address and resolve your water damage emergency right NOW. Dial us immediately to dispatch our water damage service specialists to your home or business to initiate the drying process. Our team boasts unparalleled expertise, state-of-the-art equipment, and a tried-and-tested restoration protocol. We are licensed, insured, and facilitate a smooth process by working directly with your insurance company.
We service the entire Ventura CA area, including 93002, 93003, 93004, 93001, 93005, 93006, 93007, 93009. Click here to see the areas we service.
Our Top Cities
Ventura, CA
Oxnard, CA
Thousand Oaks, CA
Camarillo, CA
Simi Valley, CA
Moorpark, CA
Bell Canyon, CA
Ojai, CA
Santa Paula, CA
Port Hueneme, CA
Agoura Hills, CA
Westlake, CA
Santa Barbara, CA
Goleta, CA
Montecito, CA
Summerland, CA
Topanga, CA
Carpinteria, CA
Sea Cliff, CA
Newbury Park, CA
Hidden Hills, CA
Malibu, CA
Woodland Hills, CA
Calabasas, CA
Tarzana, CA