Offering Water Damage Restoration in Thousand Oaks, CA and Beyond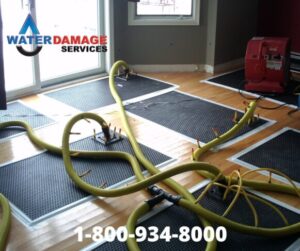 We respond to flooding emergencies daily. In cases of water damage, immediate action is critical. Get in touch with us now, and we promise to respond within 90 minutes to begin the drying and restoration process before further damage happens to your home or business.
A majority of home and business owners are not aware that insurance coverage often exists for these kinds of accidental damages. As a seasoned and informed water damage company in Thousand Oaks, CA, we can get most claims covered under customers' insurance policies by liaising directly with your insurance provider.
Our highly skilled and experienced team will swiftly assess the damage and create an efficient plan to clean up the water in your residential or commercial space, allowing you to return to normalcy as quickly as possible. We immediately start water extraction and structural drying to prevent the development of mold and mildew. We're licensed, insured, and supremely well-equipped.
Our Water Damage Repair Procedure
Water damage restoration and repair involve water extraction and the use of drying equipment to dry damp structures, restoring your home or business to its original state. The duration of this process can vary, largely dependent on how quickly you call us following the discovery of water damage.
Halting the Flood Damage
The process begins with damage assessment and identifying the water source. Whether it's from an appliance, a broken pipe, or sewage backup, the first step is halting the water flow and fixing the root cause.
Water Removal
All standing water and/or sewage must be removed from the affected area. Each situation varies in terms of water volume, type, and duration of exposure. In cases where water is excessive, it may need to be pumped out.
Material Removal
When feasible, damp structures are dried in place. Any materials that cannot be salvaged are discarded.
Drying
We use specialized air movers and dehumidifiers to dry out structures that can be saved. Managing this process carefully is crucial to quickly drying the saturated structures and avoiding additional damage. Starting the drying process immediately helps prevent the water from spreading and thus limits the saturation level of the structures.
Sanitization and Deodorization
We ensure the affected areas are thoroughly cleaned, sanitized, and deodorized to prevent mold and mildew growth after our work is done.
Three Types of Water Damage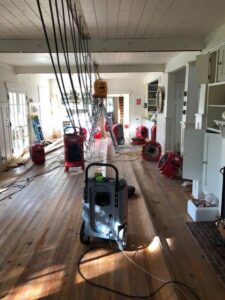 Water damage is not one-size-fits-all. The health risks can escalate depending on the water type that has inflicted damage on your home or business. Water damage is classified based on the water's cleanliness level.
Clean Water – Category 1
Water from sources such as sinks, showers, tubs, and supply lines is considered clean and does not pose a health threat to humans or animals. Clean water can transition into grey water after 48 hours.
Grey Water – Category 2
Water from washing machines, dishwashers, and toilets (with urine only) is deemed moderately unsanitary and can contain chemical, biological, and physical elements that may induce mild to moderate illness in humans and animals. This is referred to as grey water, which can turn into black water if left for 72 hours.
Black Water – Category 3
Water from sources such as sewage backups, toilets containing feces, or floodwaters from lakes, streams, rivers, and groundwater is highly unsanitary, contains harmful bacteria and biological matter, and can result in serious health issues in humans and animals. As the precise origin of black water is often unknown, the water's quality and content are uncertain.
Four Classes of Water Damage
Water damage is further sorted based on the time it takes for the water to fully evaporate from the area. The class of water damage informs the clean-up actions and the necessary equipment to dry out the damaged space.
Slow Evaporation – Class 1
Class 1 water damage impacts only a portion of a room, and the affected items are mostly non-absorbent and won't soak up a significant amount of moisture. Tiled areas, hard surfaces, and other non-absorbent materials are included in Class 1 water damage.
Fast Evaporation – Class 2
Class 2 water damage influences a more expansive area, containing items that absorb a moderate amount of water like carpets, drywall, wood, and fabrics. Water that has penetrated walls, up to 24 inches high, also falls into this category.
Fastest Evaporation – Class 3
Class 3 water damage occurs when the damage originates from overhead and affects a large area. The affected materials likely comprise a mix of absorbent and non-absorbent materials, all exposed to substantial amounts of water. In this class, water infiltrates walls, ceilings, insulation, carpets, fabrics, and other porous items.
Advanced Drying Methods – Class 4 Water Damage
Class 4 water damage signifies scenarios where water has infiltrated areas that make drying and restoration notably difficult. This class can involve both porous and nonporous materials such as plaster, concrete, and hardwood. Cases that demand extremely low humidity levels for drying or involve hard-to-reach locations also fall into the Class 4 category.
What is the Cost of Water Damage Restoration in Thousand Oaks, CA?
The pricing for water damage services, including water damage restoration and repair, fluctuates based on the specific circumstances and extent of the damage. We factor in the following aspects when calculating the cost:
The class and category of the damage
The size of the affected area
The type of materials that are damaged
The complexity of the extraction process
Nevertheless, many homeowners and businesses have insurance that covers such losses. We maintain an open line of communication with your insurance provider throughout the restoration process.
We are ready to respond and tackle your water damage emergency immediately. Contact us now to dispatch our water damage service experts to your home or business and initiate the drying process. Our top-notch team, specialized equipment, and tested methodologies enable us to restore your space efficiently. We are fully licensed, insured, and work directly with your insurance company.
---
We provide service throughout Thousand Oaks CA, including 91360.