Your Go-To Solution for Water Damage Restoration in Simi Valley, CA and Surrounding Areas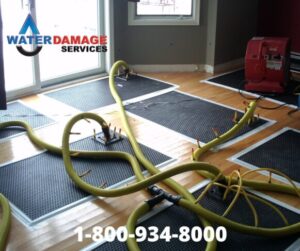 We stand at the ready to tackle your water damage crises as they unfold. Rapid intervention is crucial when you're dealing with the adverse effects of water damage. Contact us immediately, and you can count on us to respond within 90 minutes to commence the drying and restoration of your home or business, thereby mitigating any additional damage.
Many homeowners and business proprietors may not realize that their insurance packages frequently cover unexpected water-related damages. As experts in the field of water damage restoration in Simi Valley, CA, we have a track record of successfully facilitating most insurance claims by communicating directly with your insurance company.
Our adept and highly skilled team of professionals will promptly assess the situation and formulate an effective plan for water removal and cleanup tailored to your residential or commercial needs. We strive to expedite your return to normal life. We kick off the process with water extraction and structural drying to forestall the development of mold and mildew. You can have peace of mind knowing that we are a licensed, insured service provider, utilizing cutting-edge technology and equipment.
Our Approach to Mitigating Water Damage
The roadmap for restoring and repairing water damage encompasses various steps like water extraction and deploying advanced drying techniques to bring affected structures back to their original state. The duration of this process varies and can stretch over multiple days, depending largely on how promptly you call us upon detecting water damage.
Initial Damage Assessment and Water Source Identification
The journey to restoration begins with a thorough damage assessment and pinpointing the origin of the water leak. This could be due to malfunctioning appliances, broken pipes, or sewage backups. The first order of business is to stop the water flow and fix the underlying issue.
Extracting the Water
Immediate removal of standing water or sewage is imperative. The circumstances differ case by case, considering factors like the volume of water, its type, and how long it has been sitting. In some instances, we may need to use pumps to remove large amounts of water.
Handling Affected Materials
Whenever feasible, we dry out water-damaged structures on-site. Any materials that are beyond the point of repair are disposed of responsibly.
Structured Drying Techniques
Utilizing specialized equipment like air movers and dehumidifiers, we focus on thoroughly drying salvageable structures. Effective management of this phase is vital to accelerate the drying and avert further deterioration. Initiating the drying process without delay minimizes water absorption and saturation.
Final Sanitation and Odor Removal
Upon completion of the restoration work, we take additional steps to clean, sanitize, and deodorize the impacted areas to ward off mold or mildew growth.
Understanding the Different Types of Water Damage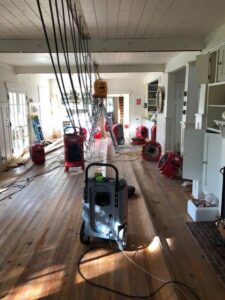 Water damage isn't one-size-fits-all. Depending on the nature of the water involved, there might be varying health risks. The damage is classified based on the purity level of the water. These classifications are mainly determined by the source of the water involved.
In Category 1, the water comes from a clean, uncontaminated source, posing no immediate danger to health. Despite its initial safety, it's important to address this water within 48 hours; otherwise, it may turn into grey water, which carries its own risks.
Moving on to Category 2, grey water typically originates from household appliances and may have minor contaminants. Though not immediately dangerous, if this type of water is left untreated for 72 hours, it has the potential to turn into black water, significantly increasing the associated health risks.
Lastly, Category 3 or black water signifies the most severe level of contamination and poses direct health hazards. While the exact source may not always be clear, what is certain is the perilous composition of the water in this category.
Estimating the Cost of Water Damage Restoration in Simi Valley, CA
The financial aspects of water damage restoration depend on multiple factors, including:
Type and category of water damage
Extent of the affected area
Variety of materials damaged
Complexity involved in the extraction and drying process
However, most insurance plans for property owners do cover such damages. We act as a liaison between you and your insurance company throughout the recovery phase.
Don't delay; reach out to us NOW for immediate assistance with your water damage emergency. Our team of water damage restoration specialists is geared up to be dispatched to your site to initiate the drying procedures. We pride ourselves on our highly skilled team, state-of-the-art equipment, and time-tested restoration methods. Rest easy knowing we're fully licensed, insured, and work closely with your insurance provider.
---
We provide service throughout Simi Valley CA, including 91362, 93065.