Providing Water Damage Restoration Service in Santa Barbara CA and Surrounding Areas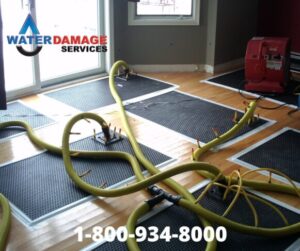 We address flooding emergencies daily. If your home or business is suffering from water damage, it is crucial to take immediate action. Reach out to us now, and we'll be on-site within 90 minutes to commence the drying and restoration process, preventing further damage.
Many property owners are unaware that their insurance covers this kind of incidental damage. Leveraging our expertise and experience as a water damage company in Santa Barbara CA, we can help you claim most of these damages under your insurance by working directly with your insurance company.
Our team of highly trained and skilled technicians will promptly arrive to assess the damage and develop a strategy for an efficient clean-up. We kick off water extraction and structural drying immediately to forestall the growth of mold and mildew. We are licensed, insured, and exceptionally well-equipped.
Understanding the Three Categories of Water Damage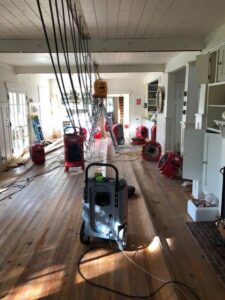 Water damage varies in severity and potential health risks, depending on the nature of the water causing the damage to your residential or commercial property. It is classified according to the cleanliness of the water.
Clean Water – Category 1
Damage caused by water from sources like sinks, showers, tubs, and supply lines falls under this category. The water is clean and poses no health risk to humans or animals. However, if not addressed, clean water can turn into grey water after 48 hours.
Grey Water – Category 2
This category covers damage caused by water from washing machines, dishwashers, and toilets, with only urine present. Grey water is moderately unsanitary and can contain chemical, biological, and physical contaminants that can cause moderate illness. If left untreated for 72 hours, grey water can turn into black water.
Black Water – Category 3
This is the most dangerous category of water damage. It includes water from sewage backups, toilets containing feces, or flood waters from natural bodies of water and ground water. The source of black water is often unknown, and it contains harmful bacteria and biological matter that can cause serious health issues.
Four Classes of Water Damage
Water damage is further divided based on the duration it will take for the water to fully evaporate. The class of water damage dictates the cleanup methods and equipment needed to dry out the damaged area.
Slow Evaporation – Class 1
Class 1 water damage typically involves a small part of a room and predominantly non-porous items that won't significantly absorb moisture. Tiled areas, hard surfaces, and other non-porous materials fall under this category.
Fast Evaporation – Class 2
This class affects a larger area containing items that absorb a moderate amount of water, like carpets, drywall, wood, and fabrics. Also, if water has penetrated walls up to 24 inches high, it falls under this class.
Fastest Evaporation – Class 3
Class 3 is when the water damage originates from overhead and covers a substantial area. Affected materials could be a mix of absorbent and non-absorbent, with all being exposed to a considerable volume of water. In this class, water may permeate walls, ceilings, insulation, carpets, fabrics, and other porous materials.
Specialized Drying Techniques – Class 4
Class 4 water damage refers to situations where water has reached areas that present substantial drying and restoration challenges. This class may involve both porous and nonporous materials, such as plaster, concrete, and hardwood, or locations that require exceptionally low humidity levels for drying.
Our Approach to Repairing Your Water Damage
Water damage restoration and repair involve extracting water and using specialized equipment to dry wet structures, thus restoring your home or business to its original state. This process can take several days or more, depending largely on how quickly you call us after discovering the water damage.
Halting the Flood Damage
We begin by assessing the damage and identifying the source of the water problem. Whether it originates from an appliance, a broken pipe, or a sewage backup, the initial step is to halt the water flow and rectify the cause.
Water Removal
We remove all standing water and/or sewage from the affected area. Each scenario is unique and depends on the volume of water, the type of water, and the duration it has been present. In cases of excessive water, it may need to be pumped out.
Material Removal
Whenever possible, wet structures are dried in place. However, we remove any materials that cannot be restored.
Drying
We utilize specialized air movers and dehumidifiers to dry out structures that can be saved. It's crucial to manage this process carefully to dry out the affected structures as swiftly as possible and prevent additional damage.
Sanitizing and Deodorizing
We ensure the affected areas are thoroughly cleaned, sanitized, and deodorized to prevent mold and mildew from developing once our work is complete.
What is the Cost of Water Damage Restoration in Santa Barbara CA?
The cost of water damage services, restoration, and repairs varies based on several factors including:
The class and category of the damage
The size of the affected area
The type of damaged materials
The level of complexity involved in the extraction process
Fortunately, most insurance policies for homeowners and business owners cover these types of losses. We work closely with your insurance company throughout the entire process.
If you're dealing with water damage, don't hesitate to contact us immediately. Our team of water damage experts will be dispatched to your home or business to initiate the drying process. With our skilled team, specialized equipment, and proven methodology, we are poised to restore your space. We are licensed and insured, and we work directly with your insurance provider.
---
We provide services throughout Santa Barbara CA, including postal codes 93101, 93103, 93105, 93108, 93109, 93110, and 93117.